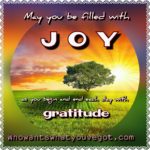 Thankfulness is not magic, it is an attitude that will immediately usher you into My Presence. A grateful heart will focus on your blessings in the midst of trials and the hardest of life's tribulations. In this place of gratitude, I can lavish My grace and unconditional love on you, so that you can then, in turn, bless others.
Be ye filled with the Joy of the Lord!
#whowantswhatyouvegot?