Why are you downcast,  My precious child?  Yes,  darkness fills your life with doubt and fear,  but My Light overcomes any negative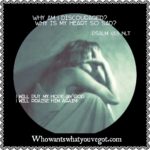 energy that turns your focus from Me.
"Trust Me with your whole being," says the Lord who loves you more, "and I will increase your faith so that you can finish your journey with joy.  Indeed,  it is My Glory that goes before you and lights your way."
#whowantswhatyouvegot?