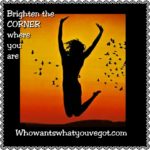 Daily routines can become monotonous and boring. Will you spend time with Me just for the pleasure of the moment?
In the time you share with Me, I will brighten the dullest of gray days and shine Light into the deepest dark of night. Start your routine today with Me so that you stay focused on your tasks at hand. Even the most confusing day will be filled with enthusiasm because you have been with Me. Clarity of mind is yours, My child, when you trust Me.
#whowantswhatyouvegot?