Thanking Me in the midst of every storm, every temptation, and yes, even when you feel abandoned will surely make a difference in your heart. As you persist in positive attitudes and words of prayer and praise, your spirit will soon soar above every negative situation.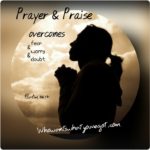 It is true, dear one, that you cannot help what you think or how you feel. However, our Father gave us a free will. Therefore it becomes your choice each day whether you will thank Me or blame Me in every situation.
#whowantswhatyouvegot?