Come, My child, into your hiding place and share your concerns for the coming day – I AM waiting for you. With My help you will overcome the obstacles in your path for truly I AM your ever-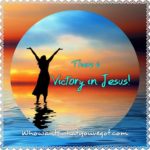 present Help in troubled times.
As you seek Me, allow My Spirit to fill you with the confident authority possessed by a Child of the King. Stand and face your day with boldness, expecting to be victorious. Indeed, I have already gone before you.
#whowantswhatyouvegot?