I know every thought before you think it; I know every word before you speak. I Am the air you breathe. My Presence is hovering around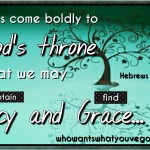 you, waiting for you to stop and seek Me.
In all your ways acknowledge My existence and I will cleanse you; I will tell you things of the Spirit; I will strengthen you with My joy, and then you are victorious.
As I flourish in you, My Light will shine through you… Then I can reach others…..by your example.
#whowantswhatyouvegot?