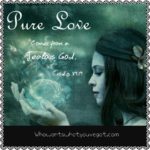 Trust Me with all of those whom you love; allow Me to be their Protector and the Lifter of their heads. Truly, they are hidden in the shelter of My wings where they will be nurtured by My Spirit . I will ultimately use every situation for their good.
Hear My words, Child of Mine! I am a gentle yet jealous God – even parental love cannot come between us. As you release those loved ones into My care, you can then  become  free to hold tightly to Me. I will, indeed, shower blessing on them for your sake. Come, bring them all…
#whowantswhatyouvegot?