My unending love for you burns constantly within the center of My being. Not one concern or fear in your spirit goes unnoticed; no tear falls that I do not salvage and keep for eternity.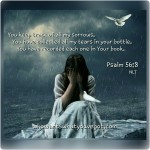 Turn to Me in your desperate times and spill all of your emotion, all of your frustration, and all of your anxiety out before Me, so that I might bathe you in My tears and then apply My balm of healing grace to your clean heart.
Be ye encouraged that I have, indeed, already won your battle.
#whowantswhatyouvegot?