Declare this day to Whom you pledge allegiance. Time is growing short, and My Father in heaven will soon send Me to collect My bride. Will you be among those who are prepared? I tell you truly, the rocks are beginning to cry out because the roar of thunderous praise is growing fainter. Indeed, I Am requires your voice as you go out into your day.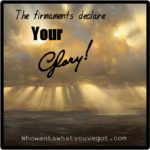 I call My church, those who are called by My name, to proclaim My Glory every waking moment, to walk in confessed forgiveness, and to shout victory in Jesus!
#whowantswhatyouvegot?