Are you distracted as you seek Me this day? Do not be frustrated, just refocus – that's all. I'm here always; I will never leave you.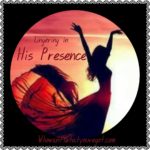 Rejoice this day knowing that I have gone before you and prepared your path so that you can walk confidently in the tasks set before you. Be encouraged while you linger in My Presence; recognize that your own weaknesses will only reveal My power to overcome every obstacle to your victory this day.
#whowantswhatyouvegot?