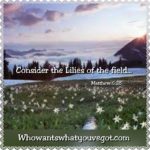 Accept today – and every day – exactly as it comes to you; moment by moment. By that I not only mean the circumstances of your day but also the condition of your body and your spirit.
Your assignment is to trust Me absolutely, resting in My faithfulness to be exactly what you need today – just like I have promised.
I Am, after all,  the same loving Lord of yesterday, today. and tomorrow.
#whowantswhatyouvegot?