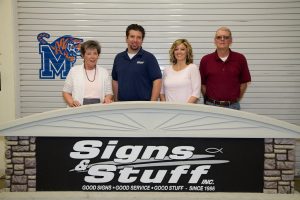 Founded in 1986 by sisters, Susie Nunnally and Cherie Jones, Signs & Stuff is a family based sign business that offers a diverse line of high-quality sign products.   Signs & Stuff started out as a home based business, and both owners were self-taught in making signs. Although Susie Nunnally left the company in 1997, Signs & Stuff's clientele and staff kept expanding.
We currently have 5 full-time employees, as well as several part-time helpers – all of which are highly trained to give customers the best service possible.
In the attempt to keep pace with technology in our ever-changing industry, Signs & Stuff  moved to an actual storefront location in 2001. From our original storefront on Goodman Road at Swinnea Road, we have since moved to a more modern location at 3674 Goodman Road. The current storefront is a new complex that has better facilities, including ample indoor space for vehicle wrapping and a "clean" environment for digital printing.
The mission of Signs & Stuff is to meet the graphic and advertising needs of the DeSoto County and north Mississippi area. We aim to provide these services with integrity and superior workmanship in a timely manner that pleases our customers.
Check us out!  www.SignsandStuff. biz