As you journey through this life there are many pitfalls along the way. Are you listening for My voice among the many that clamor for your attention? Truly, it is My voice that will direct your steps, and it is My Spirit that will protect you as you work for Me in enemy territory.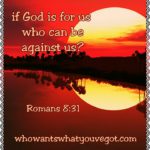 Avoid the miry pits of despair and the slippery slopes of self preservation by keeping your focus on Me.
My promises never change; I will love you forever, I will never leave you nor forsake  you. Will you trust Me?
#whowantswhatyouvegot?