The light of My Presence shines on Our path as We walk togther, and it banishes all fear and anxious thoughts because you are focused on Me. Hold My hand and boldly face the events of this day for truly I have already gone before you.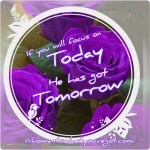 Remember, child, that you were created to be dependent on Me, so do not condemn you weaknesses when you stray from My side. Instead, draw strength from your faith as you experience victory at each challenge that We confront together.
#whowantswhatyouvegot?