Since I am infinitely accessible to you, desiring Me above all other gifts this Christmas Day is the best way to be blessed beyond measure. Because I created you it is impossible for you to have a need that I cannot meet.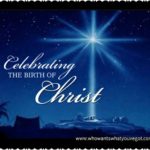 As you spend time in My Presence, the desires of your heart will be melded with Mine. Seek Me, O child of mine, and you will find Me; just ask Me, and I will give to you every good and perfect gift.
Whowantswhatyouvegot?