Again I say, TRUST ME and do not be afraid. Learning to lean on Me is part of your spiritual maturity. Yes, you live in the midst of fierce spiritual battles, and yes, the enemy uses fear as a weapon against you. So, whom do you fear? What is too hard for Me?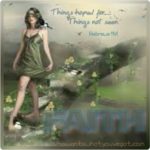 In this quiet place, draw strength from My Well. Speak the overcoming power of My Word out loud to put those helpless frustrations under your feet. Victory is Mine; none can deny.
#whowantswhatyouvegot?