Remembering to thank Me frequently throughout your day is following a command that Paul gives in Thessalonians – 'pray without ceasing.' This attitude of gratefulness provides you with a platform on which to build a relationship with Me rather than  the constant assault on all of your senses.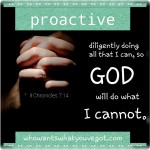 When your mind is preoccupied with thankfulness, you will find less time for worrying or complaining. Instead, I will strengthen your resolve to follow Me, and I will fill you with My Joy and My Peace.
#whowantswhatyouvegot?